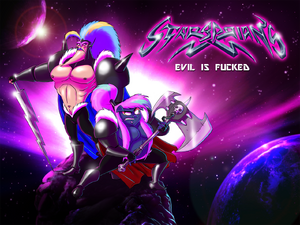 Starbarians is an animated series created by animator Harry Partridge. The cartoon follows the adventures of the titular characters, Killgar and Hogstrong, as they travel the universe as part of their "ongoing mission". As well as animating it, Partridge also writes the episodes and voices the majority of the characters. Partridge's girlfriend, Joyce "sucho" Oder, provides colour assistance, and the show's musical theme was composed by Brian Sadler.
It is inspired by, and harks back to, '80s cartoons (such as He-Man and the Masters of the Universe, ThunderCats, Dungeons & Dragons, etc.), of which Partridge is a fan.
Synopsis
Edit
The series follows the adventures of the eponymous Starbarians, Killgar and Hogstrong, two antiheroes who cause more trouble than they initially intend to solve.
An image of the Starbarians posted in 2010 included a short premise underneath:[1]
Development
Edit
Before the animated teaser was first released on the Internet on September 3, 2010,[3][4] Starbarians had been a concept that Harry Partridge wanted to expand upon as a potential series since at least 2008, where two early concept images were uploaded to his DeviantART page during late June and early July.[5][6] Another image was uploaded on March 31, 2010,[1] which was also uploaded to Newgrounds,[2] and included a brief description of the characters and premise of the show.
Some of the designs come from Partridge's planned original work Space Opera; an early design of Siad, originally a character in Space Opera, can be found on his DeviantART page,[7] and much of Killgar's appearance seems to be based upon a character called Ace Spacely (such as his pointed chin and large frame).[8][9] On March 6, 2016, Partridge revealed an early animatic of Space Opera showcasing Ace Spacely aboard his ship, The Space Bastard, which showcased more similarities to Starbarians; Partridge even referred to Ace Spacely as "proto-Killgar".[10]
Partridge has noted that he pitched the series and a contract for optioning it was written up, but he ultimately decided that he'd rather remain in control.[11]
Musical theme
Edit
The musical theme for the series was composed by musician Brian Sadler in 2010,[13] although Partridge did attempt to produce a theme tune himself prior. Ultimately, he decided against using his own as he found Sadler's theme to be "one thousand times better". He did, however, upload his own theme to Newgrounds.[12]
Merchandise
Edit
Although no merchandise currently exists, Partridge has expressed plans for releasing both a graphic novel and action figures.
Characters
Edit
Episodes
Edit
Locations
Edit
Click on any of the images in this gallery to view them at a larger resolution.
References
Edit