For the April Fools episode, see Episode 3 (April Fools).
---
---
The third episode of Starbarians is the second of a three-part story that began with the second episode. The episode is infamous for the ginormous hiatus preceding it. Taking 6 years to fully complete.[1][2]
Theshould not be confused with the April Fools episode of the same name. The episode has had a very long development, with several stated release dates being missed; the latest preview merely stated that the episode would be "coming eventually".[3]
This is Part 2 of a 4 part story.
Development
Edit
Footage that may be from this episode has featured briefly in both "2013 Teaser"[4] and "Motion Blur Test":[5] the first of which shows Killgar and Hogstrong facing the Eternoid leader on the primitive planet at nighttime, and the latter which shows a work-in-progress mouth-less Hogstrong as Partridge experiments with motion blur.
On 5 April 2014, Partridge tweeted that following his work on "Back To Tamriel" and something else, he would return to Starbarians.[6]
After uploading a photo of Killgar and Hogstrong action figures on 31 May 2014,[7] Partridge explained that episode 4 was almost finished and it was episode 3 that wasn't.[8]
Partridge produced a short live-action video for the French dub of "Episode 1.5" (released on 7 September 2014) featuring the action figures of Killgar and Hogstrong, where he stated that he was currently working on the next episode of Starbarians (presumably referring to this episode).[9][10]
In an update video posted on YouTube on 1 October 2014, Partridge assured his audience that he was still active and again reiterated that episode 3 was still being worked on and episode 4 was almost completed. He stated that when episodes 2, 3, and 4 were all going to be one episode, he wrote the beginning and end first before deciding to divide it into multiple episodes, and he had been too busy with commissions to work on the middle part for much of the year.[11]
Partridge again stated that he was continuing work on the episode on 23 November 2014 after finishing commissions for his followers on Twitter.[12] He later stated on 27 November that he was "grinding [his] right hand in to dust animating Starbarians".[13]
On 6 March 2015, Brian Sadler tweeted that he was composing music for the upcoming Starbarians and posted a screenshot.[14]
The episode was then-expected to be completed within August 2015. Partridge expressed hope that further episodes will take significantly shorter to produce following a planned Patreon campaign.[15]
On 18 March 2017, Partridge uploaded a still screenshot[16] and an animated .gif[17] showcasing line art of Killgar. When asked, he joked that the episode would be released in at least six years' time.[18] In a more serious tone, he stated his intent to put more effort into Starbarians in 2017 and into "definitely bringing them back in some form."[19] On 23 March he posted another .gif of Killgar.[20]
Two videos were posted on 27 and 29 July 2017 which showcased the female seen with Killgar in part 1, voiced by Marianne Miller.[21][22] A .gif showing lineart of the same woman in an off-screen thud was posted the following day.[23]
On November 27, 2018, Partridge held a livestream on his main channel. Though the livestream wasn't saved, he announced that his part of the episode should be completed sometime during December of 2018. The stream was titled "Working on STARBARIANS (stream will not be saved)".
On January 12th, 2019, Partridge had announced that the episode had been completed.
It premiered a week later, on January 19th, 2019.
Previews
Edit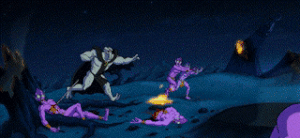 A thirty-five second preview of the episode, which sees Killgar and Hogstrong introducing themselves to the Eternoids on the primitive planet, was posted to YouTube on 24 April 2015. The video description stated, "Getting closer."[24]
On 10 January 2016, when Benjamin Daniel (Benzaie) of Channel Awesome (who works on the French dub) asked Partridge on Twitter for any more news on the episode, Partridge answered that he "[couldn't] say when", saying that "[his] life is a huge mess right now". However, he did post three pictures[25] and an animated .gif[26] of the upcoming episode.
Another preview was shown on 23 February 2018; in his YouTube series Boundary Break, Shesez highlighted several easter eggs in Harry Partridge's animations and ended by showing a preview of this episode that was provided by Partridge himself.[3]
Partridge has also livestreamed himself animating and shading the episode on YouTube throughout early 2018. In March 2018, Partridge revealed a design for the character Guldis Gravion.[27] New footage, featuring a character called Hellwig[28][29] fighting in Gladius, was shown on Partridge's Twitter on 10 July 2018.[30]
An additional .GIF was posted on 11 October 2018, featuring Zoa hiding from the Eternoids.[31]
April Fools
Edit
Main article: Episode 3 (April Fools)
On 1 April 2017, Partridge released an episode of Starbarians initially titled "Episode 3", before the "(April Fools)" amendment,[32] which pokes fun at this episode's long development time and uses it as an April Fools' Day joke.[33][34]
Click on any of the images in this gallery to view them at a larger resolution.
References
Edit